TLS CURS



Friends Dogs

These are some of the puppies and dogs that have made us some great friends!
Wrights Bounty Buckskin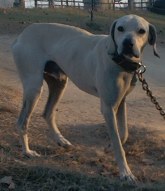 Buck is out of Ben-Son Little Bobby
and sired by Wrights Bounty Hunter.
Spur Wrights Bounty Hawk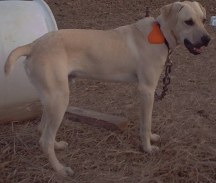 Spur is out of TLS Reba Grande Hawk is out of Conn's Sally
and sired by D-S Okeechobee and sired by Wrights Bounty
Rooster Hunter
Gunner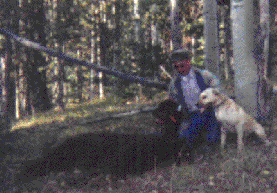 Gunner with owner Tom Foster of Colorado. This bear was taken in September of 2001. They started out on a 10 1/2 hour old track after this 300lb sow bear killed a neighboring ranchers sheep. They had the bear treed in 2 1/2 hours. Tom says this young dog will take a track quicker and work it out faster than his 4 year old seasoned Black and Tan hound.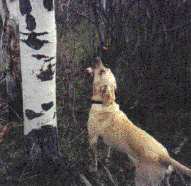 Gunner treed on coon.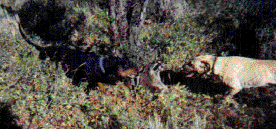 Tom uses this dog on cattle, and hunts raccoon, bear, and mountain lion with him, and also has him retrieving ducks. Gunner is sired by TLS Renegade and is out of TLS Reba Grande, a full sister to TLS Amazin' Grace.
More pictures of Tom and Gunner and some beautiful Colorado scenery!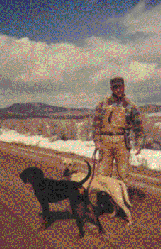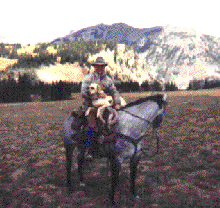 Wright's Singin' Sophie & Wright's Sam I Am
(TLS Mandy Wright x Wrights Bounty Hunter) (Wrights Cow Camp x Jody's Rosebud)
owned by Maria Davidson of the Louisiana Dept. of Wildlife and Fisheries
These dogs are official "Bear dogs" for the state of Louisiana. Both dogs are
just over one year old.
In Louisiana on Black Bear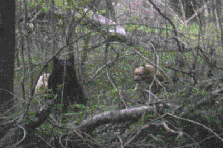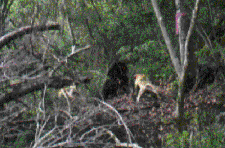 In route to Montana for a bear workshop - they treed several
bear each day - as well as 4 Grizzlies!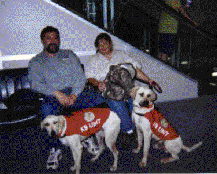 Sophie treed on bear. Sophie and Sam on Black bear in Montana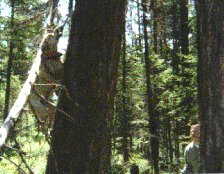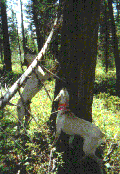 Cox's Okie - Owned by Cary Cox of Oklahoma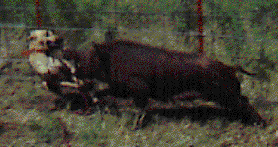 Okie is out of Bens Georgia Girl and sired by TLS R.I.P. Ben.
At 1 year of age he is already finding, baying, and catching his
own hogs. Cary also owns TLS Pearl, as well as a female out of
McIntyres Lady and sired by Wrights Bounty Trapper, a female
out of 3T's Wiya and sired by TLS Bounty Hunter, a female out
of TLS Chili Pepper and sired by TLS Mountain Cat, and a male
out of AJR Star Dancer and sired by TLS Renegade (This one is a
littermate to our TLS Moon Walker). More pics to come soon!
Ben's Cowboy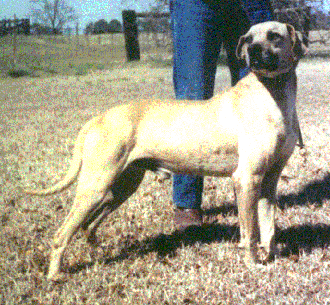 Owned by Joe Cheeks of Misssissippi, this nice male is out of TLS Coyote and sired by Weatherford's Ben. Joe uses his dog on cattle and hogs.
TLS Poco Loco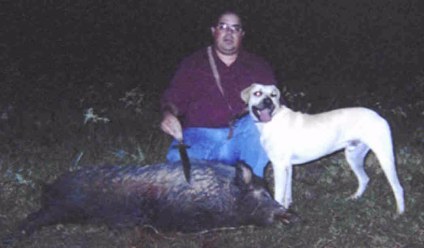 Owned by Victor Gonzales of Texas. Victor uses this dog on hogs, for warm blood tracking, and for coon hunting. He also uses him to round up his horses. He also doubles as a pony for Victor's 3 year old. TLS Poco Loco is out of TLS Coyote and sired by TLS Renegade.


Letter from Darlene Farnsworth of Ohio:
She owns a male dog out of TLS Coyote and Weatherfords Ben.

TLS Amber Fire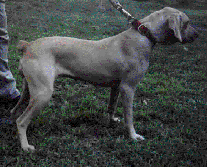 Owned by Movado Farms in Florida. She is out of TLS Amazin' Grace and sired by TLS Renegade. Movado Farms purchased her and another of our stud dogs, Frye's Yellow Rock, along with some young pups. The older dogs are now working cattle on a daily basis for the farm. Foreman Josh McNamar said he has never seen dogs take to cattle so naturally as these did. Amber had never seen a cow before she went there, and first trip out, brought up a group of twelve on her own.
AJR Tyson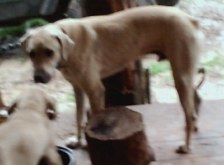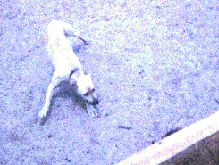 Owned by Sonny Reinhardt of Texas. Tyson is out of AJR Star Dancer and sired by TLS Renegade.
Buck Angel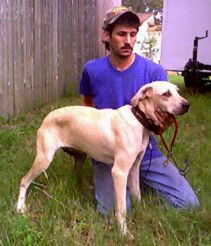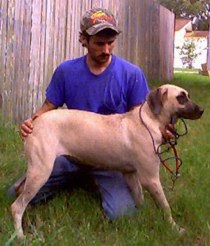 These two nice young dogs are owned by Cory Flannery of Florida. Buck is out of our Bens Georgia Girl and Wrights Rodeo Lynx. Angel is sired by Wrights Ben 001 owned by Marty Stevens and out of Williams Echo. Cory says both these youngsters are working good on hogs and he is looking forward to adding them to his breeding program.